The 2021 Subaru Love Promise Community Commitment Award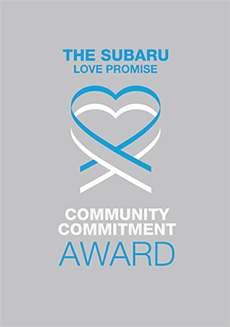 We've been nationally recognized for our dedication to our community and the Subaru Love Promise.
We're honored to receive the 2021 Subaru Love Promise Community Commitment Award. This award nationally recognizes Subaru retailers who are making the world a better place while demonstrating an outstanding commitment to supporting passions and causes in local communities. These efforts are focused in important areas such as the environment, community, health, education, and pets.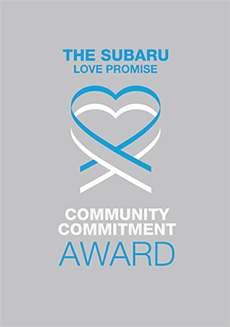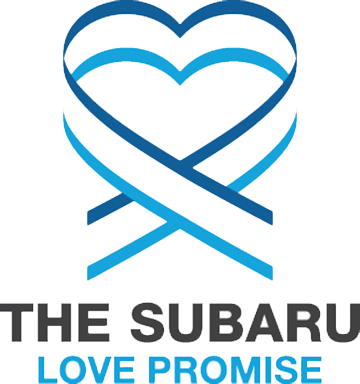 What is the Subaru Love Promise?
Subaru and our retailers believe in making the world a better place and the Subaru Love Promise is our vision of respecting all people. This is our commitment to show love and respect to our customers and to work to make a positive impact in the world.
How is Subaru of Corvallis dedicated locally to the Love Promise?
At Subaru of Corvallis, the Subaru Love Promise is just that. A promise. It is a promise to do right by Corvallis by partnering with nonprofit education, health, community environment, and animal organizations - to set Subaru apart through our deed of our partners. To be unlike any other car company in Corvallis by doing what is right and good, just for the sake of doing it. We promise to love Subaru and more importantly, to love Corvallis.
Corvallis Environmental Center, Oregon Hunters Association
Love INC, Oregon State University
Old Mill Center, Boys and Girls Club of America, CASA, Local Schools Music Programs, Smart Reading Program
Benton Hospice Service, Pastega Regional Cancer Center
Love Promise Stories from Subaru of Corvallis
Subaru and Subaru of Corvallis believe in making a positive impact on the communities in which we live and work. We uphold that belief through our Love Promise Community Commitment. Every month, we select inspiring stories from customers and partners from around our area who strive to support our collective commitment and feature them here
Subaru keeps pets with families - Emily J
At Heartland Humane Shelter & Care we recognize the impact that animals have on our lives and strive to preserve the human-animal bond. Our Safe Housing Program embodies this, providing free and confidential care for the companion animals of families in crisis situations in our local community. At Heartland we know that animals are family, and are sometimes the only family a person has. For those fleeing domestic violence, needing medical treatment, or without permanent housing, the safety and well-being of their animal companion should not be an another thing they have to worry about. Since 2002, Heartland has been providing care to animals and comfort to families through the Safe Housing Program. We offer this care, including boarding, vaccinations, parasite treatments, spay/neuter if needed, and more to families at no cost, so the humans can take care of themselves and get back on their feet. In 2020, with wildfires, record temperatures, medical emergencies, and homelessness affecting more people this past year, The Safe Housing Program provided care for animal companions with the promise that they would be reunited after people received the help they needed. With support from Subaru of Corvallis, Heartland was able to cover the costs for 6 animal companions in the Safe Housing Program, providing a full 30-day term of boarding, medical care and, most importantly, peace of mind for the families who were reunited with their animal companions.
---
How to Make an Impact? Ask the Corvallis Team! - Kate C
Subaru of Corvallis Shares the Love in so many ways. Our programs have expanded into south Benton County. Transportation is required for our staff to adequately provide outreach services including helping kids get to and from our Therapeutic Classroom, and parents to have access to food, resources, and services. We were so honored to not only receive the 2019-20 Share The Love donation, but also a much needed food donation from their "Fill The Forester" campaign. As the year wrapped up, we were able to provide some holiday cheer and had a good start for the 2020 service plan. And then came March of 2020; everything changed. The pandemic has been especially hard for low income and marginalized families. Classes were canceled, home visits needed to be reinvented and families needed our services more than ever. When we received our Share The Love donation from Subaru, it was like a lifeline for our client families and our staff. We received an astonishing $26,233! The timing was impeccable! This wonderful support helped us to deliver over 300 food boxes, and more than 850 activity/educational packets to our families all over Benton County. Other funds were earmarked to help purchase books for the kids to help bolster early reading exercises, and to help cover operational costs for children's therapy. Our local Subaru of Corvallis Dealer provides the type of local community support that is so impactful and this year especially, immeasurable! We are proud to partner with such a community-minded group of people lead by the General Manager, Dustan Simmons and Sales Manager Scott Goff! We thank you for helping the kids in our community get a great start in life.The Old Mill Center for Children and Families offers 6 programs throughout Linn and Benton Counties providing early education, prevention, intervention, mental and physical therapy to kids from birth to 18 and their families. Kate Caldwell, Development ManagerOld Mill Center for Children and Families
---
Subaru Makes a Difference in Our Community - Teagan O
I am an outreach and events coordinator at a small nonprofit called the Corvallis Environmental Center. We serve the community by providing nature-based educational programming to children and grow produce in our educational garden that is then donated to those in need. Subaru has been an invaluable partner and generous supporter over the years of this work that is so important to our community. They have always loyally supported our events through sponsorships and I can always call on them to help us promote our programs. Subaru has helped us achieve our goals of providing nearly 12,000 lbs of fresh, healthy food to struggling families every year, and providing quality, outdoor education to our futures generations! We cannot express enough how grateful we are for their support and how much it means to the community. Thank you Subaru of Corvallis!
---
A Life-Saving Gift - Leigh M
With the generous donation of 80 blankets from Subaru of Corvallis, Albany Helping Hands Shelter is able to give blankets to folx living outside this winter. Can you imagine a blanket being the only warmth and protection you have between yourself and the weather? Subaru of Corvallis thought about this and found a way to help. The life-saving gift of a blanket says – WE SEE YOU AND WE CARE. Thank you Subaru of Corvallis for truly living out loud THE SUBARU LOVE PROMISE.
---
Share the Love with ABC House - Leslie F
Thanks to the Share the Love campaign, Subaru of Corvallis has made an incredible impact in our community and the children and families we serve here at ABC House – the Child Abuse Intervention Center serving Benton and Linn Counties. During the first part of the year, Subaru of Corvallis has assisted ABC House with providing medical exams for 72 children. They have also supported 109 forensic interviews and helped us educate and train nearly 1,900 students and 718 adults about child abuse and internet safety. It is compassionate supporters like Subaru of Corvallis who ensure each and every child at ABC House receives comforting care and reassurance that healing is possible. From the medical exam and the forensic interview, to counseling sessions and a welcoming atmosphere that delights, Share the Love directly impacts the lives of hundreds of abused children in Benton and Linn Counties.
---
Subaru of Corvallis has made a HUGE impact! - Jennifer P
Subaru of Corvallis has made a huge impact on our school and our community. Through their Share the Love of Music campaign our school music program has been able to grow for students K-12. Thanks to their generosity we have been able to introduce new instruments to our music program at all levels. We have also been able to increase the number of students who participate. We see our students excited about the opportunity to learn new and different instruments including ukulele, guitar, xylophone and so much more. Thank you, Subaru of Corvallis for fulfilling your promise to make our community better!
---
The Steadfast Support of Subaru - Jennah S
Ever since I got my license, I'd dreamt of driving my own Subaru. I've always looked at Subaru as not just the car that gets you to whatever adventure you want to go, but as a symbol of a trustworthy company, creating vehicles in line with my outdoors geared mindset. Now, as an owner of a Subaru, I can get anywhere I want to go and I'm more of a believer than before. But, it's more than just the car itself, it's the character of the company. I work for a local, Corvallis, non-profit organization and organize multiple community events throughout the year. Although, with a small team and limited resources, we truly could not do the work we do alone. Subaru of Corvallis has stepped up to be a core partner of the Corvallis Environmental Center in 2018, supporting not just one but all of our events, and allowing us to better connect with the community to provide education, engagement, and inspiration. Our work focuses on making Corvallis a more healthy and sustainable place. With the incredible sponsorship from Subaru for all of these events, we are able to take our work where we want to go. Subaru has helped us to move forward, whether it be actual wheels on the road or community support for organizational growth, I still trust and appreciate their steadfast support tremendously. Thank you for all that you've done Subaru. For the places that you've allowed my adventurous, outdoors loving self to get to, as well as the achievements of the Corvallis Environmental Center that you've also helped us get to as well. We appreciate you so very much!
---
Corvallis Subaru - Innovative Way to support kids - Kate C
The Subaru of Corvallis team is just amazing! During the 2017-18 NCAA Women's Basketball Season, the Subaru team notched a $5.00 donation for every assist that the Oregon State University Lady BEAVS had during their games. That generous donation tallied to a $3,000 contribution to the Old Mill Center for Children and Families. Over the course of the season, Subaru also sponsored 10-second video clips showcasing several local agencies who make a difference in the lives of children. These were played during the games. This was a very selfless act that exemplified the commitment to their local community that Subaru shows year round. The money raised for the Old Mill Center was earmarked for those programs that specifically work with children deemed at high risk for child abuse and neglect. Much needed supplies were purchased for the therapeutic classrooms as well as for in-home visits. These programs are for children from birth to 7 years old. Overall the Center provides prevention, intervention, therapy and early education to over 800 children annually, and touches the lives of over 2,000 children in the community. Support like this is critical to helping our children heal and our families thrive. Thank you Chip Edwards, General Manager and the team of Subaru of Corvallis! You continue to make a difference in our community.
---
Share the Love of Music - Subaru of C
Subaru of Corvallis began the Share the Love of Music campaign in September of 2017. Our goal was to raise money to support the music programs in local schools through every sale. For every new and certified Subaru sale we made, $50 was added and through all service appointments, our customers were able to donate $5 of their bill to our overall total. Throughout this time, we are proud to say that we were able to raise almost $30,000. This money was dispersed between the music programs at Santiam Christian, Corvallis School District, Philomath School District as well as the Boys and Girls Club of Corvallis and others. These funds were used to purchase new instruments, sheet music and to repair instruments in disrepair. We are so thankful that we have the privilege and opportunity to help our community and to make these contributions to our local students! We hope they enjoy the music for years to come!
---
SMART Reader Sponsorship - Kari R
For the 2016-2017 school year, Subaru of Corvallis sponsored the SMART (Start Making A Reader Today) program at Waverly Child Development Center in Albany, and Lincoln Elementary in Corvallis. In total, 140 students participated in the program at these two schools, racking up over 1300 hours of reading time with volunteers. In total, 1800 books were sent home with the kids who participated in the program. Thanks to the help of Subaru of Corvallis and the volunteers from SMART, a new generation of local kids were able to learn to love reading!
---