The 2021 Subaru Love Promise Community Commitment Award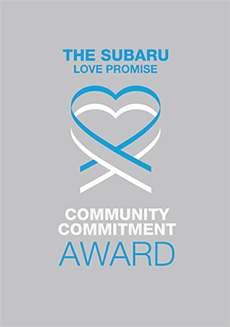 We've been nationally recognized for our dedication to our community and the Subaru Love Promise.
We're honored to receive the 2021 Subaru Love Promise Community Commitment Award. This award nationally recognizes Subaru retailers who are making the world a better place while demonstrating an outstanding commitment to supporting passions and causes in local communities. These efforts are focused in important areas such as the environment, community, health, education, and pets.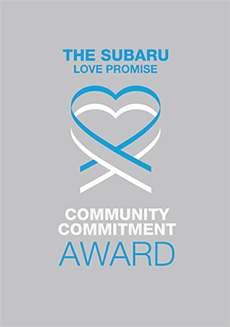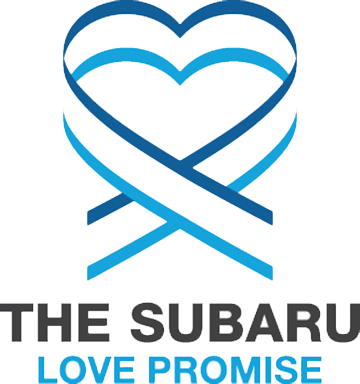 What is the Subaru Love Promise?
Subaru and our retailers believe in making the world a better place and the Subaru Love Promise is our vision of respecting all people. This is our commitment to show love and respect to our customers and to work to make a positive impact in the world.
How is Subaru of Corvallis dedicated locally to the Love Promise?
At Subaru of Corvallis, the Subaru Love Promise is just that. A promise. It is a promise to do right by Corvallis by partnering with nonprofit education, health, community environment, and animal organizations - to set Subaru apart through our deed of our partners. To be unlike any other car company in Corvallis by doing what is right and good, just for the sake of doing it. We promise to love Subaru and more importantly, to love Corvallis.
Corvallis Environmental Center, Oregon Hunters Association
Love INC, Oregon State University
Old Mill Center, Boys and Girls Club of America, CASA, Local Schools Music Programs, Smart Reading Program
Benton Hospice Service, Pastega Regional Cancer Center
Love Promise Stories from Subaru of Corvallis
Subaru and Subaru of Corvallis believe in making a positive impact on the communities in which we live and work. We uphold that belief through our Love Promise Community Commitment. Every month, we select inspiring stories from customers and partners from around our area who strive to support our collective commitment and feature them here
How to Make an Impact? Ask the Corvallis Team! - Kate C
Subaru of Corvallis Shares the Love in so many ways. Our programs have expanded into south Benton County. Transportation is required for our staff to adequately provide outreach services including helping kids get to and from our Therapeutic Classroom, and parents to have access to food, resources, and services. We were so honored to not only receive the 2019-20 Share The Love donation, but also a much needed food donation from their "Fill The Forester" campaign. As the year wrapped up, we were able to provide some holiday cheer and had a good start for the 2020 service plan. And then came March of 2020; everything changed. The pandemic has been especially hard for low income and marginalized families. Classes were canceled, home visits needed to be reinvented and families needed our services more than ever. When we received our Share The Love donation from Subaru, it was like a lifeline for our client families and our staff. We received an astonishing $26,233! The timing was impeccable! This wonderful support helped us to deliver over 300 food boxes, and more than 850 activity/educational packets to our families all over Benton County. Other funds were earmarked to help purchase books for the kids to help bolster early reading exercises, and to help cover operational costs for children's therapy. Our local Subaru of Corvallis Dealer provides the type of local community support that is so impactful and this year especially, immeasurable! We are proud to partner with such a community-minded group of people lead by the General Manager, Dustan Simmons and Sales Manager Scott Goff! We thank you for helping the kids in our community get a great start in life.The Old Mill Center for Children and Families offers 6 programs throughout Linn and Benton Counties providing early education, prevention, intervention, mental and physical therapy to kids from birth to 18 and their families. Kate Caldwell, Development ManagerOld Mill Center for Children and Families
---
Subaru Makes a Difference in Our Community - Teagan O
I am an outreach and events coordinator at a small nonprofit called the Corvallis Environmental Center. We serve the community by providing nature-based educational programming to children and grow produce in our educational garden that is then donated to those in need. Subaru has been an invaluable partner and generous supporter over the years of this work that is so important to our community. They have always loyally supported our events through sponsorships and I can always call on them to help us promote our programs. Subaru has helped us achieve our goals of providing nearly 12,000 lbs of fresh, healthy food to struggling families every year, and providing quality, outdoor education to our futures generations! We cannot express enough how grateful we are for their support and how much it means to the community. Thank you Subaru of Corvallis!
---
A Life-Saving Gift - Leigh M
With the generous donation of 80 blankets from Subaru of Corvallis, Albany Helping Hands Shelter is able to give blankets to folx living outside this winter. Can you imagine a blanket being the only warmth and protection you have between yourself and the weather? Subaru of Corvallis thought about this and found a way to help. The life-saving gift of a blanket says – WE SEE YOU AND WE CARE. Thank you Subaru of Corvallis for truly living out loud THE SUBARU LOVE PROMISE.
---
Share the Love with ABC House - Leslie F
Thanks to the Share the Love campaign, Subaru of Corvallis has made an incredible impact in our community and the children and families we serve here at ABC House – the Child Abuse Intervention Center serving Benton and Linn Counties. During the first part of the year, Subaru of Corvallis has assisted ABC House with providing medical exams for 72 children. They have also supported 109 forensic interviews and helped us educate and train nearly 1,900 students and 718 adults about child abuse and internet safety. It is compassionate supporters like Subaru of Corvallis who ensure each and every child at ABC House receives comforting care and reassurance that healing is possible. From the medical exam and the forensic interview, to counseling sessions and a welcoming atmosphere that delights, Share the Love directly impacts the lives of hundreds of abused children in Benton and Linn Counties.
---
Subaru of Corvallis has made a HUGE impact! - Jennifer P
Subaru of Corvallis has made a huge impact on our school and our community. Through their Share the Love of Music campaign our school music program has been able to grow for students K-12. Thanks to their generosity we have been able to introduce new instruments to our music program at all levels. We have also been able to increase the number of students who participate. We see our students excited about the opportunity to learn new and different instruments including ukulele, guitar, xylophone and so much more. Thank you, Subaru of Corvallis for fulfilling your promise to make our community better!
---
The Steadfast Support of Subaru - Jennah S
Ever since I got my license, I'd dreamt of driving my own Subaru. I've always looked at Subaru as not just the car that gets you to whatever adventure you want to go, but as a symbol of a trustworthy company, creating vehicles in line with my outdoors geared mindset. Now, as an owner of a Subaru, I can get anywhere I want to go and I'm more of a believer than before. But, it's more than just the car itself, it's the character of the company. I work for a local, Corvallis, non-profit organization and organize multiple community events throughout the year. Although, with a small team and limited resources, we truly could not do the work we do alone. Subaru of Corvallis has stepped up to be a core partner of the Corvallis Environmental Center in 2018, supporting not just one but all of our events, and allowing us to better connect with the community to provide education, engagement, and inspiration. Our work focuses on making Corvallis a more healthy and sustainable place. With the incredible sponsorship from Subaru for all of these events, we are able to take our work where we want to go. Subaru has helped us to move forward, whether it be actual wheels on the road or community support for organizational growth, I still trust and appreciate their steadfast support tremendously. Thank you for all that you've done Subaru. For the places that you've allowed my adventurous, outdoors loving self to get to, as well as the achievements of the Corvallis Environmental Center that you've also helped us get to as well. We appreciate you so very much!
---
Corvallis Subaru - Innovative Way to support kids - Kate C
The Subaru of Corvallis team is just amazing! During the 2017-18 NCAA Women's Basketball Season, the Subaru team notched a $5.00 donation for every assist that the Oregon State University Lady BEAVS had during their games. That generous donation tallied to a $3,000 contribution to the Old Mill Center for Children and Families. Over the course of the season, Subaru also sponsored 10-second video clips showcasing several local agencies who make a difference in the lives of children. These were played during the games. This was a very selfless act that exemplified the commitment to their local community that Subaru shows year round. The money raised for the Old Mill Center was earmarked for those programs that specifically work with children deemed at high risk for child abuse and neglect. Much needed supplies were purchased for the therapeutic classrooms as well as for in-home visits. These programs are for children from birth to 7 years old. Overall the Center provides prevention, intervention, therapy and early education to over 800 children annually, and touches the lives of over 2,000 children in the community. Support like this is critical to helping our children heal and our families thrive. Thank you Chip Edwards, General Manager and the team of Subaru of Corvallis! You continue to make a difference in our community.
---
Share the Love of Music - Subaru of C
Subaru of Corvallis began the Share the Love of Music campaign in September of 2017. Our goal was to raise money to support the music programs in local schools through every sale. For every new and certified Subaru sale we made, $50 was added and through all service appointments, our customers were able to donate $5 of their bill to our overall total. Throughout this time, we are proud to say that we were able to raise almost $30,000. This money was dispersed between the music programs at Santiam Christian, Corvallis School District, Philomath School District as well as the Boys and Girls Club of Corvallis and others. These funds were used to purchase new instruments, sheet music and to repair instruments in disrepair. We are so thankful that we have the privilege and opportunity to help our community and to make these contributions to our local students! We hope they enjoy the music for years to come!
---
SMART Reader Sponsorship - Kari R
For the 2016-2017 school year, Subaru of Corvallis sponsored the SMART (Start Making A Reader Today) program at Waverly Child Development Center in Albany, and Lincoln Elementary in Corvallis. In total, 140 students participated in the program at these two schools, racking up over 1300 hours of reading time with volunteers. In total, 1800 books were sent home with the kids who participated in the program. Thanks to the help of Subaru of Corvallis and the volunteers from SMART, a new generation of local kids were able to learn to love reading!
---
Willamette River Clean Up - Brody K
Subaru of Corvallis partnered with community members, including members of the Willamette Valley Adult and Teen Challenge Center, to clean up areas of the Willamette River over a nearly 10 mile stretch between Corvallis and Albany. The groups broke into teams, collecting trash that was gathered in to dumpsters rented by the dealership for disposal. Afterward, everyone gathered together at Subaru of Corvallis for pictures and a BBQ!
---
Subaru of Corvallis Cares about Cancer Patients - Shannon G
The Leukemia and Lymphoma Society (LLS) is grateful to Subaru of Corvallis who made life a little warmer and brighter for blood cancer patients as part of their "Subaru Loves to Care" commitment to the community. Kris and Sam, part of the Subaru of Corvallis team, personally delivered 80 custom Subaru/LLS blankets to the beautiful, new Samaritan Cancer Resource Center, where they were greeted by Jill, Liz and Allison, who help local cancer patients navigate treatment and support services. Jill is a 20 year non-Hodgkin's Lymphoma survivor and shared her story of how LLS –funded research and medical breakthroughs have changed her life. Subaru of Corvallis customers also created "Care Cards" filled with wonderful words of encouragement and support to be given to cancer patients with their new blankets. Along with the blankets, Capitol Subaru provided a dozen cool craft kits in little metal lunch boxes for children spending long hours in the hospital to enjoy. LLS treasures our partnership with Subaru because it represents what we do best together - bring comfort and support to blood cancer patients during their cancer journey.
---
Bringing Care to Pastega Regional Cancer Center - Shannon G
This year for the Subaru Loves to Care event, Subaru of Corvallis partnered with the Leukemia & Lymphoma Society to bring blankets, craft kits, and care cards to the patients at the Samaritan Pastega Regional Cancer Center. Subaru of Corvallis displayed the blankets on the showroom over the course of June, allowing customers to fill out care cards while they waited for service. At the end of the month all of the blankets, craft kits, and cards were taken to the center and dropped off to be distributed to the patients there. While delivering the blankets Subaru of Corvallis employees also received a brief tour of the facility. It was a wonderful experience and a worthy cause.
---
Garfield Wildlife Habitat - Kris J
Subaru of Corvallis partnered with Garfield Elementary to add the Subaru Loves the Environment Wildlife Habitat to the School Garden. The kids at Garfield Elementary planted all of the flowers to their already in place garden, and were very excited to add to bird houses and bird bath to the area. Several of our employees brought the supplies, along with seed packets and other garden implements to the school in May!
---
Johnson Center for Youth Excellence - Helen H
Subaru of Corvallis Share the Love campaign has generously donated $15,000 to the Boys & Girls Club of Corvallis to help support the construction of the Johnson Center for Youth Excellence. The Center will provide permanent facility space for hundreds of high school teen members who will benefit from programs designed to address the achievement gap and support graduation completion for at-risk and under-performing teens. With the integrated wellness center on the 2nd floor, youth and families will have access to much needed behavioral and medical health services that will add to the Club's current on-site dental clinic.
---
The Love of Music - Cortley W
From September through October Subaru of Corvallis raised money to spend on music programs throughout the community. They donated the funds to several local schools to spend on music programs, and even helped out the local Boys and Girls Club. This wouldn't have been possible without the help of several awesome Subaru fans as well, many of whom donated instruments that Subaru of Corvallis passed on to the Boys and Girls Club, along with 10 ukulele's to get their High School Music group started. We all came together to show how much Subaru loves music, and how much Corvallis loves music too!
---
Subaru Loves Learning - Kris J
This year, Subaru of Corvallis donated books to local school Garfield Elementary. During the last few months, they have had several books on display in their service waiting area, as well as cards with information about Subaru Loves Learning and box for people to write notes to people who have taught them the love of learning. Several kids filled cards out while waiting for their parents vehicle to get serviced, and the books were a big hit for kids to flip through as well. Learning is such an important part of childhood development, and reading is a key way for learning to happen. I know that the kids at Garfield Elementary will benefit from the books that Subaru of Corvallis donated. We have to keep the love of learning alive in the next generation!
---
Share the Love - Rebecca B
May 10th, 2016, Corvallis, OR. During their Share the Love event in winter of 2015, Subaru of Corvallis raised $20,220 for Old Mill Center for Children and Families. Many thanks to the hard work of General Manager Chip Edwards and his team, and the generosity of the Benton County community. Buyers had the option of choosing from four national charities or a local charity, and they overwhelmingly selected Old Mill Center, 2015's local charity. This generous donation helps to provide education, prevention, and intervention services to our local children and families. The "big check" was presented by Steve and Barb Jackson, owners of Subaru of Corvallis, to Bettina Schempf, the Executive Director of Old Mill Center, at the Old Mill Center's 36th Annual Dinner and Auction on Saturday, May 7th.
---
Butterfly Heroes - Jill C
Subaru of Corvallis partnered with Hoover Elementary School to add to their butterfly garden. Subaru of Corvallis brought a planter that included special plants to attract butterflies, a small birdhouse and bird bath for water, turning Hoover's existing Butterfly Garden into a real wildlife habitat. Thanks to the Butterfly Heroes at Hoover Elementary and Subaru of Corvallis we can begin doing our part to restore the Monarch Butterfly population in the area!
---
April's E-waste Recycle project - Rebecca B
Subaru of Corvallis received an opportunity to participate in a National campaign in April. To honor Earth Day for the month they filled a (very large) box full of E-waste materials. The collection received everything from computers and TV's to wiring, screens, and keyboards! Once the box was overflowing by the end of the month, it was donated to proceed with a special E-recycle process.
---
Superbowl 2014 BBQ & Giveaway - Jason B
Subaru of Corvallis recently turned to Facebook to spread the word about their BBQ Superbowl party Feb 2015. The entire community was invited to join in the festivities and bring friends and family. Although the Seahawks did NOT win the event was unforgettable and lots of fun. At the end of the game Subaru of Corvallis gave away a brand new 60" TV to a lucky raffle winner! Subaru of Corvallis looks forward to ongoing fun family events to regularly allow the community to participate in.
---
Casa Superhero Dash - Scott G
Subaru of Corvallis has once again teamed up with Casa for the upcoming "Superhero Run and family Fair" CASA-Voices For Children trains, mentors and supports community volunteers to advocate for abused and neglected children who are within the legal custody of the State. Subaru of Corvallis is the title sponsor for the event. On May 9th there will be a 5k race as well as kid dashes. Following the event is a fun filled fair with activities for the whole family. All funds are directly in support of CASA to continue making a difference for the children that need it most.
---
Subaru of Corvallis Shares the Love with "CASA" - Rebecca B
Subaru of Corvallis recently teamed up with Subaru of America in the national campaign "Share the Love." Subaru of Corvallis was thrilled to support a well deserving local non profit organization "CASA." Subaru of Corvallis has proudly partnered with CASA in the past as well. They stand with them in their mission to advocate for children in the Corvallis area. CASA-Voices For Children trains, mentors and supports community volunteers to advocate for abused and neglected children who are within the legal custody of the State. For every new Subaru purchased from November 20th 2014- January 2nd 2015 customers were given the opportunity of selecting among some well known national charities or...a local option being CASA. For every new purchase, Subaru donated $250 to the organization of the customer choice. Thanks to overwhelming interest, Subaru of Corvallis was honored to present a check donation in the amount of $15,514 to the local chapter CASA to support their amazing efforts.
---
Community Thanksgiving Dinner - Charles P
Subaru of Corvallis Oregon posted a special announcement on Facebook, giving the local community an opportunity to recommend a family or friend in need a complete Thanksgiving dinner. The nominations they received were either private or messaged or shared on our Facebook page. The plan was to support giving two complete dinners to the selected families. The response to the request was overwhelming with stories that were shared by local families with donations giving their holiday turkeys with fixings for complete dinners. The team at Subaru of Corvallis matched by completing the dinner with all the fixings. The program went from the planned two dinners to giving 12 Thanksgiving dinners to families in Corvallis, Albany, Philomath, Lebanon, and Sweet Home.
---
Subaru of Corvallis Participates In "Puttin' on the Pink" - Jason H
Subaru of Corvallis is focused on connecting with our community and giving back to our neighbors. In honor of Breast Cancer awareness month, and all the brave women who have fought breast cancer we participated in "Puttin' on the Pink". In conjunction with the Corvallis Clinic Foundation Puttin' on the Pink is aimed at creating a fund to keep Project H.E.R. (Help. Enlightenment. Resources) - a comprehensive breast health services program - available to women in Benton, Linn and Lincoln counties. Puttin' on the Pink event combined creativity with purpose - to raise awareness and funds for breast cancer research and screenings, while creating lifesaving art - in the form of bras re-purposed by local businesses and individuals for auction. And all entry fees went to the continued support H.E.R. While this event is over, the mission continues! If you want to learn more or help Subaru of Corvallis and Corvallis Clinic Foundation support our community and women, go to www.puttinonthepink.com and be part of the support!
---